Voice Servers with Complete Control
Your Phone System in the cloud.Whether you are a small business of one or a large company with 100+ employees, Gawk Talk in the cloud provides a robust and reliable solution.Get all the functionality you expect from an on premise phone system, without the costly installations, maintenance, and difficult management of old/out of date technology.
We do it all, from simple local/long distance, internet service, hosted PBX, to robust call center solutions and more. Gawk is your one stop shop for all your communications needs.
Main Features:
Instant Setup
24/7 User Support
Low Network Latency
Free Control Panel
Great features included with all plans
We value your business and want to provide the best possible experience. That's why we offer great features that are available on all plans!

Instant Setup
No one likes to wait to use their service. We offer instant provisioning of our services. You can use your hosting account immediately upon payment.

99.999% Uptime Guarantee
Downtime can destroy your business and your reputation. At Gawk, we offer "Five 9's" or 99.999% uptime guarantee.

Full User Support
Things happen, thats why we offer a 24/7 helpdesk with the Gawk Guru support team ready to assist with technical support. Email us anytime for help!

Toolset
Scale and implement your voice services locally, nationally, or around the globe! With our platform no coding or expensive IT support personnel is needed. Customize just about everything to meet your business needs.

Global Backbone
Gawk's global backbone and cloud infrastructure simplifies hybrid multi-cloud, multi-vendor management, with one orchestration, provisioning and billing portal for your own cloud.

Managed Server
Stress less and earn more with fully managed servers. We take care of all the gritty stuff so you don't have too!
Free Control Panel
Management of your phone system can be done from PCs both locally and remotely for all users. Gawk's Gawk Talk portal provides full control with an easy to use interface.
Complete Phone System
Multi Location Advantage
Full Featured
Simple yet intuitive interface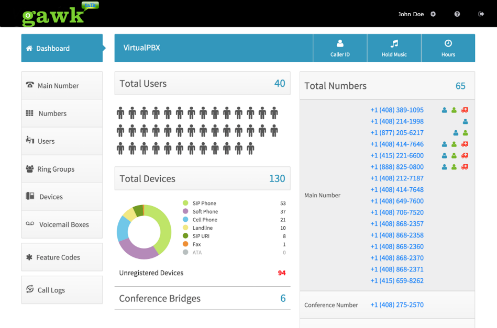 Powered by WHMCompleteSolution